Let's face it, managing a business is not an easy task at all. You have to create invoices, send them out and then monitor unpaid bills that consume a lot of time. Also, it can't be done without the use of billing and invoicing software.
Being an entrepreneur, you know how important it is to confirm that your clients pay the bills on time. It is obvious that if you don't check the payment of a product or service then the clients won't rush for it on their own.
Similarly, all these tasks can't be performed without a dedicated accounting team. Since it is costly as well as time-consuming for a small company.
To save your money as well as time, we have created this informative post. We have tried to test and compare the top "5 Best Billing and Invoicing Software" in order to simplify billing and invoicing operations. Rather than these, we have tried to compare the reviews, features, prices, and other aspects.
Importance of The Billing and Invoicing Software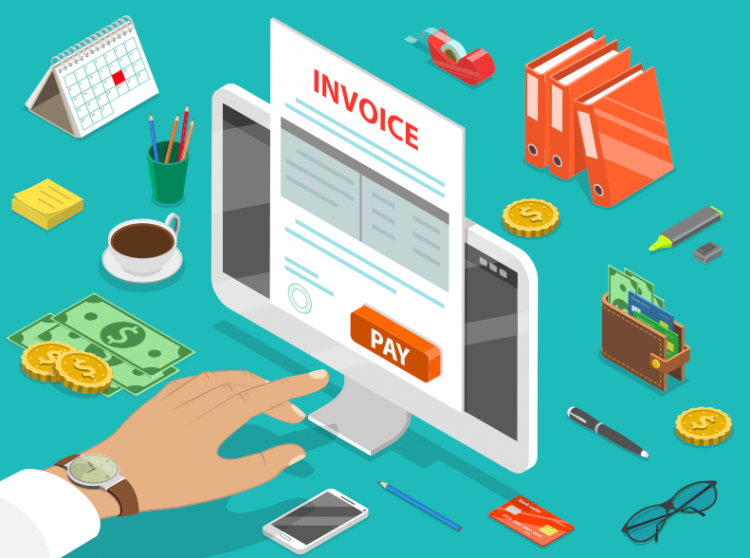 Billing software automates the process of billing and invoicing. With the software, you can handle the processes efficiently that too with the least errors. This not only saves your precious time but also hard-earned money.
Furthermore, the software helps the users to ensure timely collection of payments with minimum errors. As there is no manual data entry. Numerous industries professionals prefer billing and invoice software like:
Architects
Utilities and telecommunications
Professional firms medical and legal services
Freelancers
Billing and invoicing software removes the pain in the invoicing process. Also, provides additional options for speeding up the tasks.
5 Best Billing and Invoicing Software
It's no secret that there are thousands of online invoice software in the market. But the main question is which software is best for your company's growth? Let's compare the top 5 software for handling invoices and billing to help you in making a better decision.
1. QuickBooks

Quickbooks is the most loved software by numerous professionals and companies. Adding on, it is a cloud accounting software through which you can arrange your finances in just a single place. Quickbooks helps you create custom invoices and send them from any device.
Top features out of many:
You can connect your bank with the software.
Create custom invoices.
Sales receipts.
Excellent navigation and user interface.
In-depth contact records.
Customizable reports.
Supports hundreds of integrations and add-ons.
Comprehensive payroll support.
Fresh cash flow pages.
New sales tax option.
Schedule recurring payments.
Track sales as well as expenses.
Monitoring profits.
Tracking sales tax.
Create purchase orders.
Transact in many currencies.
Track job profitability.
Interesting Fact: The QuickBooks Online Mobile app saves your data automatically in the cloud which makes it efficient to handle your company on the go.
Cost: From $10.36 month, per user.
You Can Also Find, Quickbooks POS Hardware Requirements: A User Manual (Easy Installation)
2. Freshbooks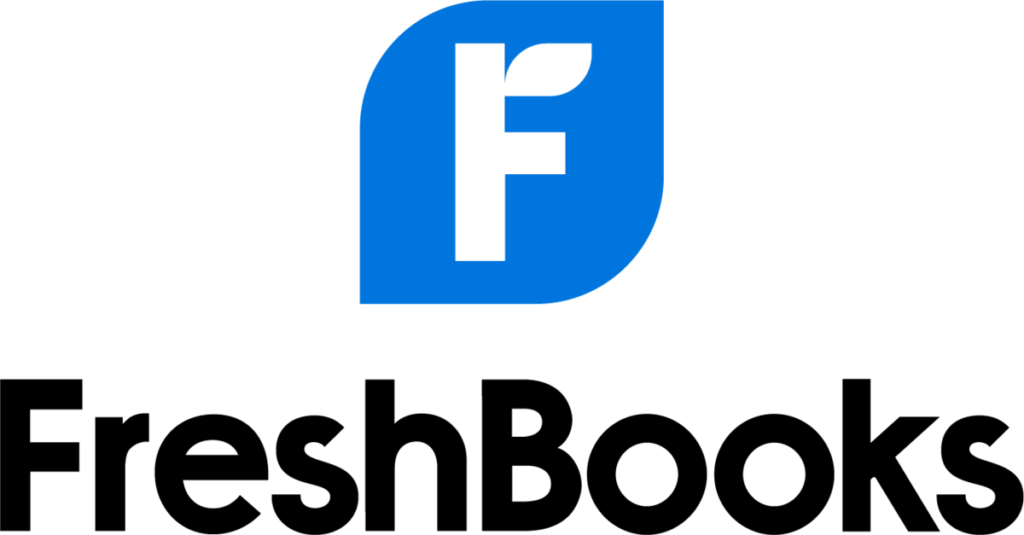 FreshBooks not only makes your accounting tasks super simple but also secure. Through this, you can send invoices, capture expenses, track time in minutes.
Top features out of many:
Double-entry accounting.
Delightful user experience.
Detailed client records.
Time tracking.
Send unlimited customized invoices.
You can check when your customer has received, watched, or paid an invoice.
Set up payment reminders to avoid any late fees.
Accept online and card payments.
You can create professional-looking estimates.
Simple reports and dashboards can help you get business insights.
The software works on all devices such as tablets, mobile or computers.
Team collaboration tools.
Estimate functionality.
Inventory tracking.
Supports proposals as well as projects.
Supports IO automatic mileage tracking.
Interesting Fact: You can log and track time by clients and projects as well as collaborate with the team via Freshbooks.
Cost: From $15 monthly, per user.
3. Zoho Invoice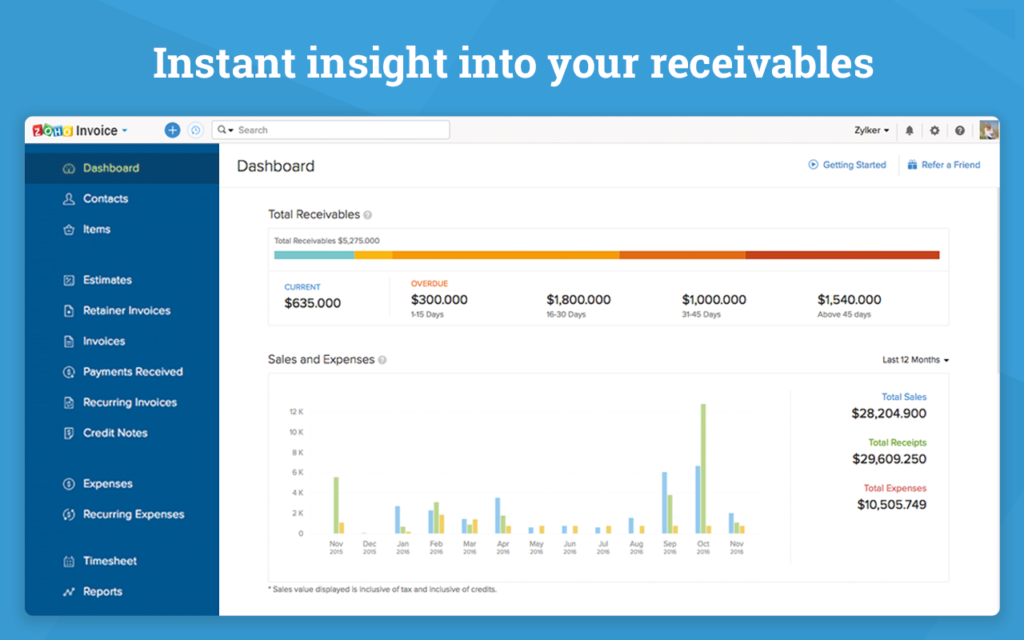 Comparatively, Zoho Invoice is another incredible invoicing and e-billing software. It is super affordable for small to medium business owners and sole proprietors. It also helps you to create and send amazing invoices to your clients. Additionally, it has many advanced features and a friendly interface which makes it best for small companies.
Top features out of many:
Visually appealing.
Understandable interface.
Send professional invoices.
Accept contactless payments conveniently.
Categorizing and billing expenses to the customers from one single place.
You can it to your financial account to track your cash flow.
Monitor transactions.
Enable inventory tracking.
Managing products when they come and go.
Customer portals.
Deep customizability.
Excellent reports.
Good mobile apps.
Interesting Fact: Well, you don't need to acquire any accounting knowledge to use this software. As soon as you take a glance at it, you become aware of how it works.
Cost: From $10 monthly. You also get free 14 days trial.
4. Xero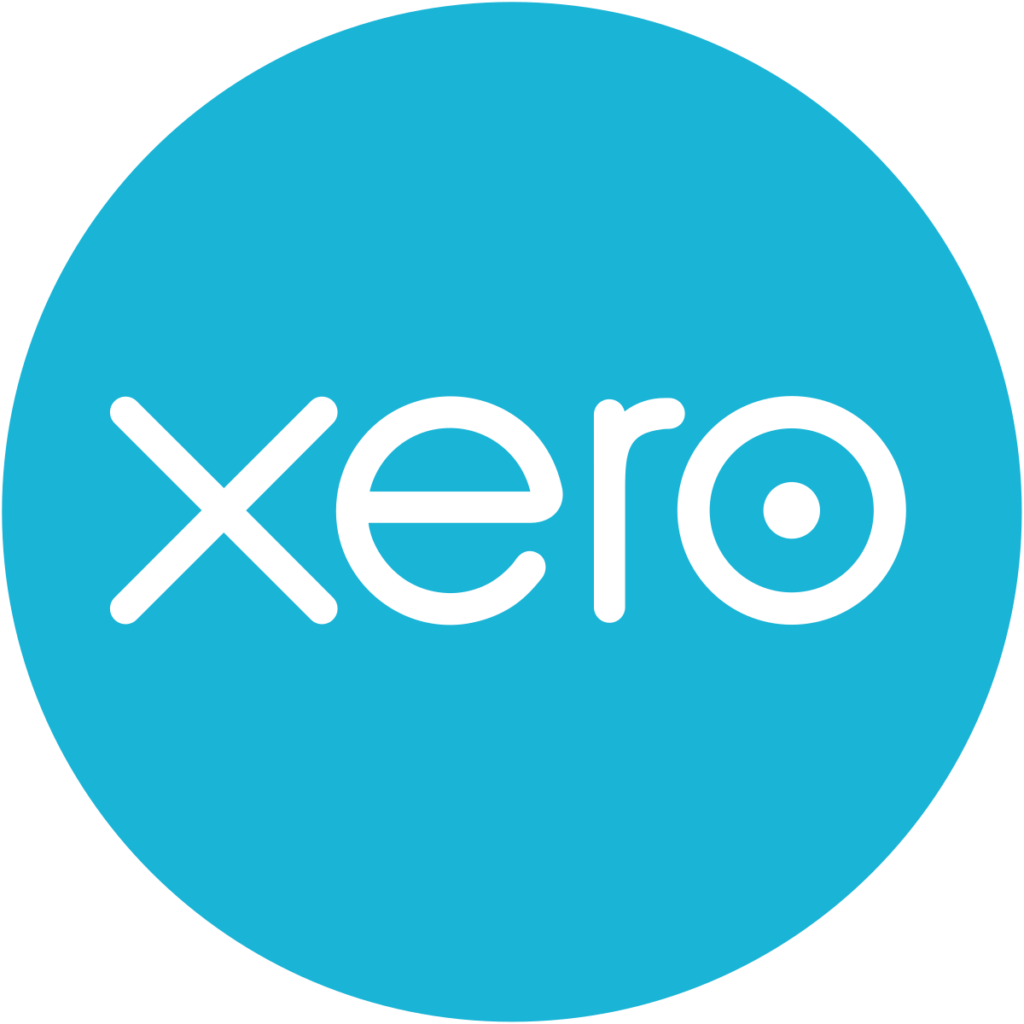 There is no denying that Xero is powerful accounting software that provides you time-saving tools to enhance the productivity of your business. In addition to that,  it supports unlimited users. Xero also is known for providing security and reliability.
Top features out of many:
Good dashboard.
Easy invoicing: Craft and send professionally designed invoices.
New business views.
Improved setup process.
You can set automated invoice reminders for payment.
Advanced reconciliation tools.
Interactive quotes.
This software also helps you get paid faster.
Accepts various modes of online payments such as debit or credit card, PayPal, etc.
Exceptional online support.
Smart Lists\Supports mobile: you can use this software to craft and send invoices via phone or tablet.
Integrates with Gusto (payroll).
Project tracking.
Set up invoices.
Interesting Fact: Xero helps you in bulk-invoice customers, to save your valuable time. Furthermore, it also informs you the moment invoices are opened.
Cost: $20 monthly, per user.
5. Wave

Apart from all these, you can also use Wave. It is free accounting software that delivers powerful service to freelancers. Moreover, it contains incredible management and invoice creation tools. You can track as well as connect to other Wave products. The superb part is all tools and applications are free in this software.
Top features out of many:
Free (payroll incur fees and payments).
Instant Payouts
Double-entry accounting.
Excellent invoice management.
Smart features suitable for small businesses.
Easy transaction management.
Context-sensitive help.
Multicurrency support.
Excellent navigation tools and user interface.
Interesting Fact: You can get it on Android and IOS and send invoices accordingly in seconds from anywhere. Wave invoice, credit card payments, accounting, and even payroll – everything is up to date.
Cost: Free
Our Take!
We reviewed more than 15 software and picked the top – QuickBooks, Freshbooks, Zoho Invoice, Xero, and Wave. But, your decision depends on your company size, workflow, revenue, and accounting process. It should be noted to test these 5 best billing and invoicing software until you find the best one.
However, if you have any query about any element in this informative post, then write it directly in the comments section. We will definitely give you the best response.